"Now, those are great questions!" In his days walking the earth in Israel, Jesus heard many dumb questions by his apostles like Peter and his opponents like the Sadduccees and Pharisees, but I imagine that when Jesus saw Zachery Ursinus' pen form the letters on the paper in 1563 as he wrote the Heidelberg Catechism, the glorified Jesus must have exclaimed, "Now those are great questions!"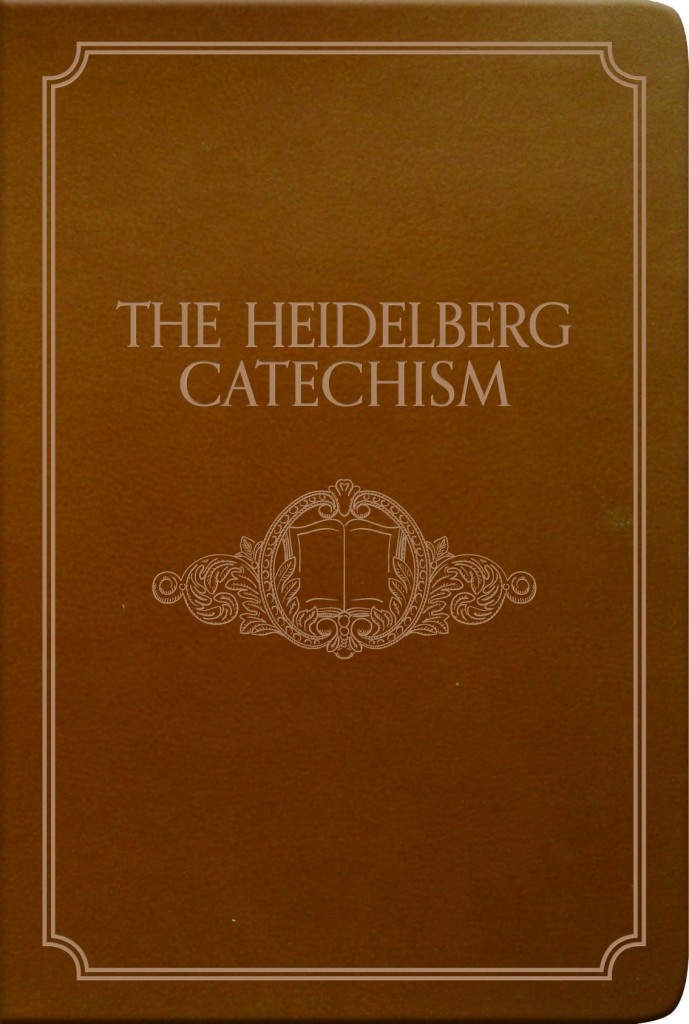 This Sunday (July 24), our church's sermon series transitions from the first section of Romans (Chapters 1-11), primarily an exposition of the gospel, to the second section of Romans (Chapter 12-16), which is primarily exhortation based on the gospel.
Each week, in the flow of our liturgy, we confess our faith to God after we hear God's declaration of who we are in Christ, For the next several Sundays, we'll be swapping the general ancient creed (the Apostles' Creed) for the reformation creed, the Heidelberg Catechism, written in 1563. The Heidelberg Catechism is written as a series of 129 questions and answers that summarize the teaching of scripture. It is, therefore, a very helpful tool to give a Christian a big picture summary of what the Bible teaches.
The Heidelberg Catechism follows the flow of God's grace in its structure which mirrors Paul's Epistle to the Romans: Grief over our sin (think Romans 1:18-3:20), God's grace to overcome our sin and restore fellowship with our God (Romans 3:21-11:36), and the response of gratitude coming from God's redeemed back to their Redeemer (Romans 12:1-16:27).
The Heidelberg Catechism is organized into 52 sections or Lord's Day intended to be used week after week by the church. The first Sunday/Lord's Day 1 has two beautiful introductory questions and answers that frame the remainder of the confession according to the three things we must know which can be nicknamed the 3 G's: our grief, God's grace, and our gratitude. See below:
Heidelberg Catechism Lord's Day 1 (1563)
Q. What is your only comfort in life and in death?
A. That I am not my own,1 but belong—body and soul, in life and in death2—to my faithful Savior, Jesus Christ.3
He has fully paid for all my sins with his precious blood,4 and has set me free from the tyranny of the devil.5 He also watches over me in such a way6 that not a hair can fall from my head without the will of my Father in heaven;7 in fact, all things must work together for my salvation.8
Because I belong to him, Christ, by his Holy Spirit, assures me of eternal life9 and makes me wholeheartedly willing and ready from now on to live for him.10
1 1 Cor. 6:19-20 2 Rom. 14:7-9 3 1 Cor. 3:23; Titus 2:14 4 1 Pet. 1:18-19; 1 John 1:7-9; 2:2 5 John 8:34-36; Heb. 2:14-15; 1 John 3:1-11 6 John 6:39-40; 10:27-30; 2 Thess. 3:3; 1 Pet. 1:5 7 Matt. 10:29-31; Luke 21:16-18 8 Rom. 8:28 9 Rom. 8:15-16; 2 Cor. 1:21-22; 5:5; Eph. 1:13-14 10 Rom. 8:1-17
Q. What must you know to live and die in the joy of this comfort?
A. Three things: first, how great my sin and misery are;1 second, how I am set free from all my sins and misery;2 third, how I am to thank God for such deliverance.3
1 Rom. 3:9-10; 1 John 1:10 2 John 17:3; Acts 4:12; 10:43 3 Matt. 5:16; Rom. 6:13; Eph. 5:8-10; 2 Tim. 2:15; 1 Pet. 2:9-10
God gave us gifts in order to make sure we remember these three things. He gave His people biblical churches that worship in the Spirit and in truth. If you are not being exhorted by God through authorized preaching each week, if you are not being nourished by celebrating the Lord's Supper each week, and if you are not an active member of a church with people with whom you are in covenant with to love and serve, what are you even doing? Are you even a Christian? If these things are not present with you, then you have been sidelined and made very ineffective. With such neglect of his gifts given to you, it is very likely that your heart is growing very cold toward Christ. May this never be! Christ is the only true comfort we may have in life and in death.
Therefore, we call you to worship the true and living God: the Father, the Son, and the Holy Spirit, with us this Sunday at Trinity Presbyterian Church of Norman, at 10:30 A.M. at 428 W. Lindsey. We are a church that is committed to asking only history's greatest of the great questions!