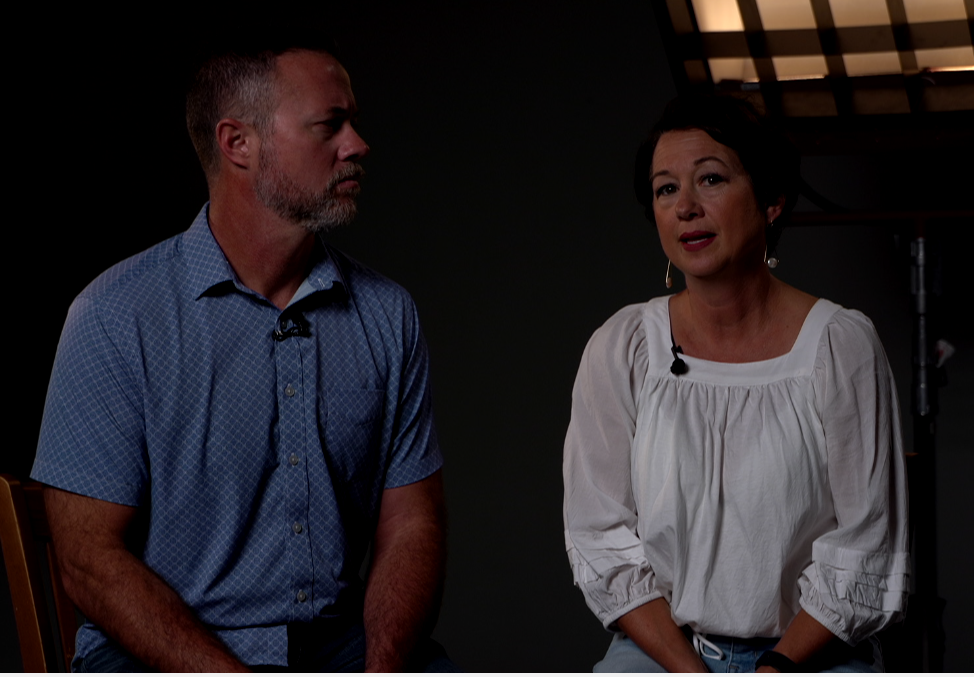 In the clip linked above, Cody and Tammie share how God brought them to Trinity Presbyterian Church of Norman.
The "gospel" is a fantastic description of the message of Jesus Christ. The Holy and Sovereign God has surprisingly demonstrated His sovereign grace & mercy in the unconditional election, definitive atonement, irresistible grace, just justification and gracious adoption, and preservation to glory for undeserving sinners like us. This message centers upon the unique, historical personhood of Jesus and His completed work.
Cody and Tammie decided to visit the church plant regularly, even though it was pretty far from their previous home. They heard a gospel-centeredness at our church that was unique. Quite incredibly, God opened a door for them to move to Norman and join our church.
We are thankful for Cody's faithful leadership in our session and in our presbytery. Tammie has been a blessing with her leadership of our women's bible study ministry. God is building a church for Norman and we rejoice in his blessing us through the ministry of both Cody and Tammie. Cody and Tammie desire to glorify God by living a gospel-centered life, in a gospel-centered home, and enthusiastically serve the Lord in building a gospel-centered church in Norman. They are putting down roots growing deep and downward in the gospel of grace.
You can read more about our church's distinctives like how we are gospel-centered here. https://trinitynorman.com/what-we-believe/
Why is it so important to arm our members with the gospel, you might ask? Many people view the church as no more significant than just another philanthropic organization in the world. Others view it as an evangelistic project. Others see the church as an outdated relic of the past where people didn't believe in science but instead formed religion to explain the unexplainable. Most pernicious to the true definition of the church is that some hold that the church is composed of those people who are the "good" people who don't struggle with sin like others outside the church. They are the perfect people. Many hold this view and exclude themselves from the church. We wholeheartedly reject these errors about the church. In fact, I would say that the one most obvious mark of our members is that we all struggle most with sin! They are painfully acquainted with their sin. Their sins are obvious to them and to others and this causes grief and anguish. This is why the gospel is so sweet to our members. We know that the only solution for our sin is not from us but from the God of grace through his gospel. Though our members are justified by faith, we seek to battle against sin, temptation, and the devil daily for the glory of God (Soli Deo Gloria)!
We affirm that the church is the body of Christ in need of gospel encouragement. Paul gives this encouragement in Romans when he shares that the church's Head-our God of Peace…will soon crush Satan under our feet (Romans 16:20). We are engaged in a battle. Glory thieves led by Satan have blinded the eye of the world from beholding the gospel. We believe the church is to resolutely proclaim the gospel in all she does because it is the weapon that binds the devil and routes his kingdom as God promised in Luke 10:17-20; Matthew 12:29; Revelation 20:1-3.
At Trinity Presbyterian Church of Norman, we arm our members with the gospel of grace. J.I. Packer once wrote that true Christian growth is growth downward. As we see our sin more clearly, God grows us and quips us with the gospel more clearly embraced. Hear what puritan William Gurnall writes in The Christian in Complete Armour
Satan shall never vanquish a soul that is armed with true grace. True saints, who have been sifted by the enemy, will at last come off with an honorable victory. The Holy Spirit wo lef Christ into the wilderness also brought him off with victory. Satan seeks to defile the Christian's conscience, and disfigure the image of God. God, however, uses the temptation of Stan in one sin, as a preventative agaisnt another. God is the saint's true friend. He sits in the devil's planning room and overrules Satan's plan to the saint's advantage. God also can use the fall of the saints as an encouragement, a drop of hope, to others from falling into utter despair. David's sin was great but he found mercy. Peter dell foully, yet is now in heaven. "Why do you sit here, O my soul, under th econtrol of despair? Get up and call on your God for mercy, who has so pardoned others.' God also allows Satan to trounce some of his saints by temptation in order to train them to help fellow-brethren in like conditions. He allows them to train under Satan's lasj, to get experience in the ways of Satan's and of their own hearts. No one handles poor souls so gently as those who remember the smart of their own heart-sorrows. A saint may be foiled by the enemy's deception, but a false-heart voluntarily lays himself down to lust. Saints do not commit sin so presumptuously as others. God turns their failings to further furnish their faith. True faith rises and fights even more valiantly. God suffers his dear children to fall, to outshoot Satan;s design. All the plots of hell have not so much as shaken God's hand to spoil one letter or line he has been drawing. The mysteriousness of his providence hands a curtain over this work that we cannot see what he is doing.

William Gurnall