Hear from Lance about his dreams for his children and the church.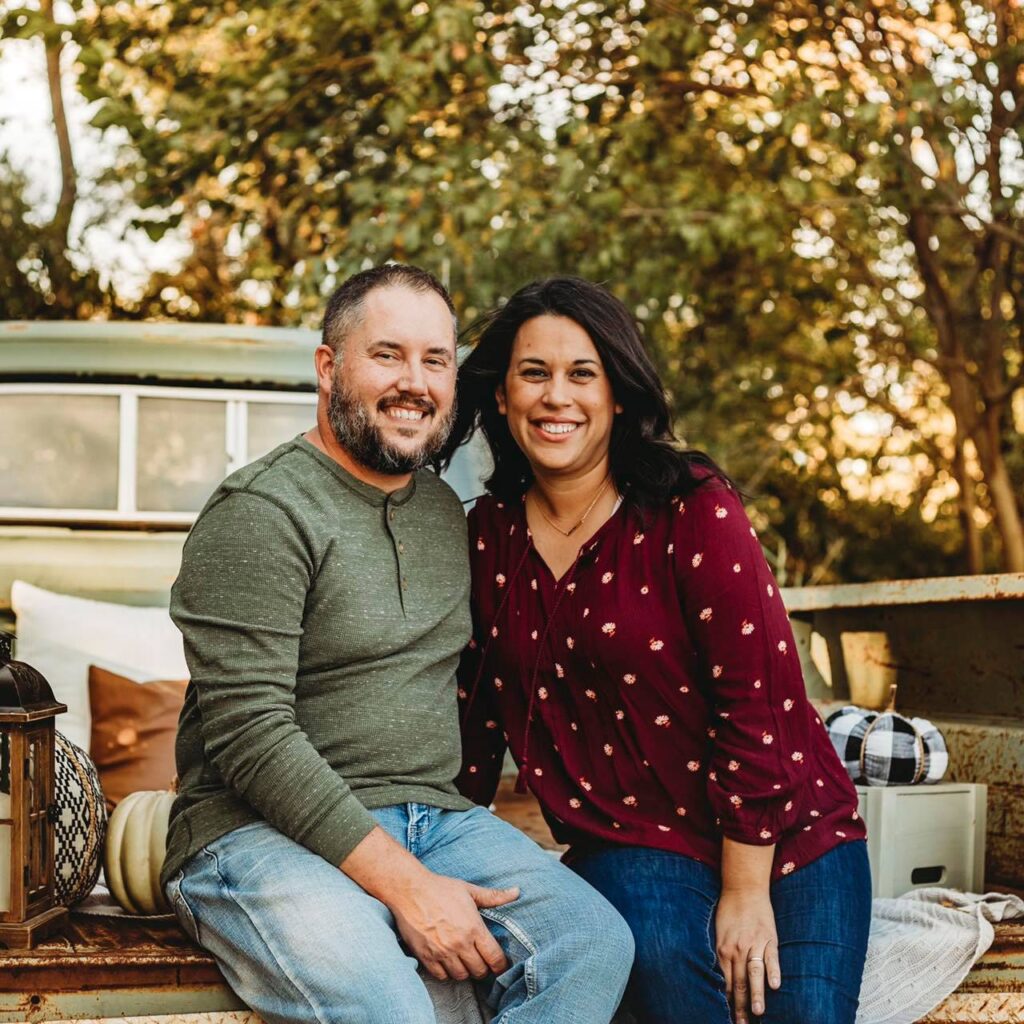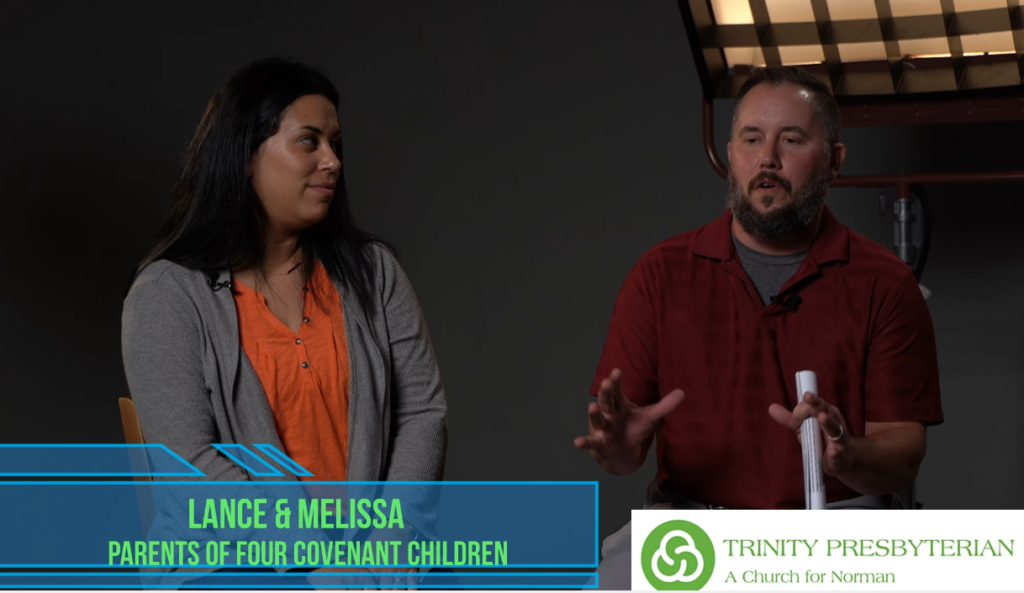 Trinity Presbyterian Church loves children: Parents give them the gospel of Jesus Christ. Parents teach their children the catechism. Parents model Christ for children in their homes and in their church. Our church seeks to make disciples who will express their faith by loving their Savior through shepherding the hearts of His children.
In this video, Lance shares his hopes for the spiritual transformation of his children and all of God's covenant children. We rejoice that God has called Lance & Melissa and their four children to be members and servants for Christ at Trinity Presbyterian Church of Norman, OK.
An Age That Hates Children: In the beginning, God gave the first man and woman the charge to multiply, fill the earth, & have dominion over all the creatures. To accomplish this, God established the following institutions: procreation, marriage, the sabbath, and meaningful work. The first "church," Adam & Eve, failed to accomplish God's plan. They allowed a competing voice from the serpent to confuse and contradict God's truth. After the tragedy of Genesis 3, the world (including our children) is bent toward rebellion against God. All children are not only born sinners but they will experience God's curse in that many of the adults in their lives are fools. Adults will denigrate each of the institutions, procreation, marriage, the sabbath, and meaningful work, given to man in creation. The future age of God's creation was bleak in Genesis 3. Thankfully, according to God's eternal decree, we see that God promised to one day send His own Son to do the work that Adam & Eve failed to do (Genesis 3:15) and to reconcile men and women to Him and renew them to follow God's voice (not the serpent's).
A New Age Has Come: That day has arrived! The day of salvation has come. The new creation has begun in the hearts of God's people. Today, Christians live in the tension of living in two overlapping ages. One arrived through the sin of Adam, and one arrived through the obedience of Christ. For those stuck in the old age, God's original purpose for mankind is unpopular. Rather than receive God's purpose, evil men and women encourage children to look within and "discover" their own purpose. The problem with that is that when a sinner looks within for meaning and purpose, he or she will only find sin. Christians know that rather than encouraging autonomy, we are to encourage children to become worshippers of God. This makes Christians, who desire to have children and hope to raise them to serve Christ, to be aliens and pilgrims in this age.
Tragically, it is common for parents on one extreme to treat children as an idol or, on the other hand, to view them as unwanted nuisances. Both are two poles of godless reasoning. The scriptures, however, teach that our children don't exist to serve us or make our dreams come true. God reveals that our children are a blessing from God, gifts from God to be nurtured. They will, of course, because they are sinners like their mom and dad, become a means of God's sanctifying work in us. We live in the tension of trying to love our children with these models from the old age and the new age.
The Overlapping Ages: Therefore, we recognize that none of us are untouched in our thinking and practice by this spirit of the fallen age. In Christ, we are called to no longer be conformed to the pattern of this world but be renewed by the transformation of our minds (Romans 12:1-2). Christians must always be repenting of how we have uncritically adopted the thinking of the old age about ourselves and our children.
Since the Holy Spirit brought the work of Christ into the hearts of people gathered in Jerusalem at Pentecost, men, women, and children throughout the world have been called back to Christ and empowered to be His witnesses (beginning in their homes) to the ends of the earth. This mirrors the original creation mandate of Adam and Eve to fill the entire earth with God's glory. Jesus brings His Kingdom as men and women faithfully witness to His truth. It is to this end that we pray the Lord's Prayer each Lord's Day.
The Desired Outcome: We are glad to share this video above and hope you can hear the Christ-centeredness and Kingdom vision that God has given to Lance & Melissa. Do not misunderstand. We are not a church about effective parenting strategies. We are Christ-centered and kingdom of God-focused. We do not just want to raise moral kids who will be good citizens and live the good life. We seek to raise worshippers who glorify God and enjoy Him forever. We could possibly quote raise "good" kids and completely miss the mark. Fathers and mothers living between the ages must shepherd their children with Christ's heart in everyday activities, in times studying God's word, and in praying through the good and bad days. Success is not seen in meeting external measures but in our faithfulness to the diligent use of the means of grace. The Bible teaches that no correct strategy can change a sinner's heart. We trust God's promise that this gospel is for us and our children (Acts 2:38-39) and pray for God's steadfast mercy to fall upon them. The Good Shepherd ministers to parents like Lance & Melissa, so they can speak and live the gospel truths as Lance said which will by God's grace carry their children wherever the Lord leads them to serve Him. His church, and His Kingdom.
Parents Need the Gospel: Lance & Melissa are seeking to be God's instruments as parents who shepherd each child's heart. They are a regular husband and wife. What sets them apart is that they are loved and forgiven by God. Each day, God in His mercy assures them that Lance & Melissa do not have to perform for their Heavenly Father in order to win his approval or get His attention. They minister grace to their children out of the grace they have received. They give forgiveness, security, and rest to one another and their children out of that which they have received in Christ. They receive strength for their callings through the gospel-centered church.
In a world where Christians can get caught up in the need to market the radical, novel, next big things, Lance & Melissa have found that one thing is necessary: the gospel of Jesus Christ. At our core, we are all seeking to be persuaded that God the Father can and does love and welcome us. Believing this gospel has enabled Lance & Melissa to find beauty in their commitment to serve God in raising up children to know and serve Christ. Is this your heart? Are you in love with the gospel of God because you've chased after dead ends and at the end of your rebellion, God found you and called you to be His child? We all have, at one time or another, sought to fill our lack of feeling the heavenly Father's love with god-replacements. Sometimes we believe the lie from the serpent that we don't need Him anyway. Thankfully, we can freely confess these sins without fear because Jesus saves us and teaches us to pray, "Our Father…" If you're in need of a community like this, we call you to come and join us. As long as we have air to breathe, we will not forsake the meeting together in order to encourage and stir one another up to love and good works (Hebrews 10:23-24).
An Invitation: We invite you to join and participate in the church- The church is the only community you'll ever join that will endure beyond your lifespan in this age and extend into the age to come. We believe this church is too important to fail. If you have questions about the church or Christianity and you're local, we are glad to send either our pastor or one of our elders to visit with you, just reach out to admin@trinitynorman.com. We call you to worship with us each Sunday at 10:30am at 428 W. Lindsey.