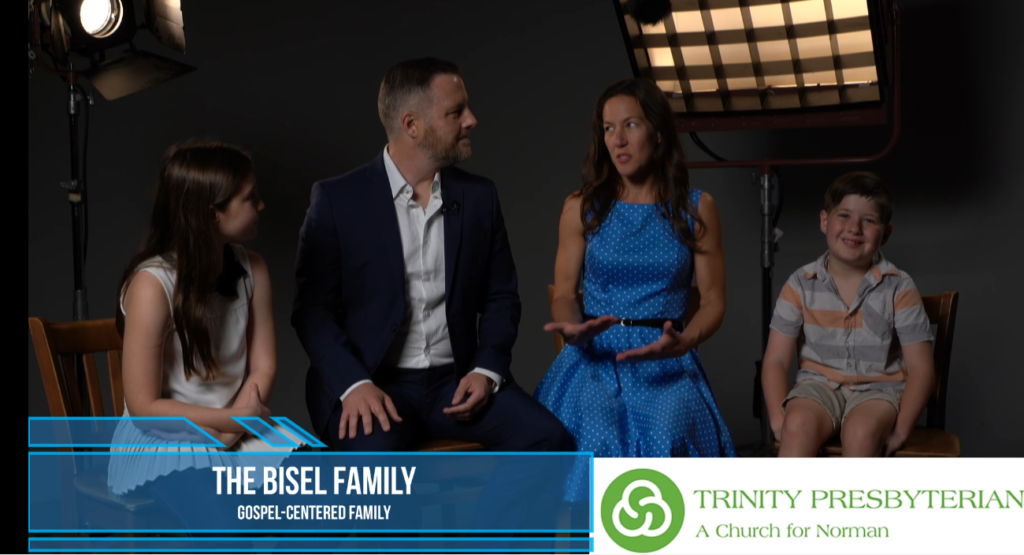 Trinity Presbyterian Church is Gospel-Centered. Just like the church has historically always been gospel-centered. We shouldn't have to say this. Every church should be gospel-centered. But many are not. It is so bad that I often hear from Christians who have difficulty finding gospel-centered churches.
I wonder why some churches are not gospel-centered. Could it be that over centuries, we have become less acquainted with the doctrines of sin and God's grace? Therefore, rather than the gospel as our central hope, we moved past the gospel to more pragmatic concerns because we don't really see much value in the gospel. May that never be! Listen with us to a clip from this conversation between Ryan and Adele about how they appreciate churches that are gospel-centered.
The hope of all believers everywhere in every land until the coming of the Messiah was that God would send the offspring of the woman to deal a mortal wound to the head of the serpent (Genesis 3:15). This was the good news in proto-form. A day would come when the devil, who had momentarily succeeded in bringing God's image-bearers and his creation to ruin, would face his demise. Sin and death would be no more and God and man would be reconciled once more in a creation that surpassed that of the garden.
When Jesus arrived and preached that this Kingdom had arrived in Him, it was the good news of the kingdom, the gospel. Many like Simeon, Anna, Zechariah and Elizabeth, Mary and Joseph, and John the Baptist were looking for this gospel. John the Baptist saw Jesus and proclaimed, "Behold the Lamb of God who takes away the sins of the world!"
The gospel is about God reconciling himself to sinners by the gracious work of His Son and Spirit. By faith, we now live in communion with the Trinity. When we gather for a service of worship, it is like when a husband and wife go on a date and swap stories of their love for one another. How have the couple demonstrated their love to one another through the challenges throughout their marriage? They need to tell the story over and over of how the man won the heart of the woman? This builds the relationship.
By analogy, at Trinity Presbyterian Church, every Sunday, each Christian and their children will confess their sins to God and hear that God has washed them, redeemed them, forgiven them, ransomed them, atoned for them, and brought them into a state of everlasting righteousness through His acts of justification and adoption.
Churches must preach the gospel. Christians must preach the gospel. Children must preach the gospel. What are we doing in worship if we are not proclaiming the gospel? Is something else more essential than that? I think not.
The fundamental pieces of that message are our sin and God's redeeming grace- or what I call the bass and the treble. Like a broken car stereo that is either all bass or all treble, a church that is missing one those is hearing some noise, but it is actually missing the song. Turn down the volume on either of those: sin or grace, and we lose the gospel's message. Our church's musical style may not be loud, but we have the dials maxed out on both bass and treble: sin and grace, so the gospel is clear.
Note that the children in the video are listening in on their parents having this important conversation. When they hear that gospel and its application over and over, they will ask questions. When we speak the gospel daily, we provide the atmosphere, for our children whose minds are likes sponges to be filled with truth from God's word rather than lies from the serpent. This work of shepherding our children's hearts with the gospel is not like having "the talk," but more of an ongoing non-stop conversation as long as we have breath in our lungs. Our children must hear this message over and over. Deuteronomy 6 explicitly gives us this model.
Notice also, Ryan's heart for being part of this enduring community. Christians throughout the centuries and in all different languages share our same confession! We are thankful for Ryan and his family and that not only does he serve the Lord full-time by doing quality teaching, writing, mentoring, and many administrative duties as a tenured professor of communication at OU, but he also answered God's call to serve as our pastoral associate in 2021. We thank the Lord for the Bisel's and their passion for the gospel of Jesus Christ!
Join us at Trinity Presbyterian as we seek to gather and perfect the saints. We call you to worship with us each Sunday at 10:30am at 428 W. Lindsey. We are a congregation of the ARP Church.