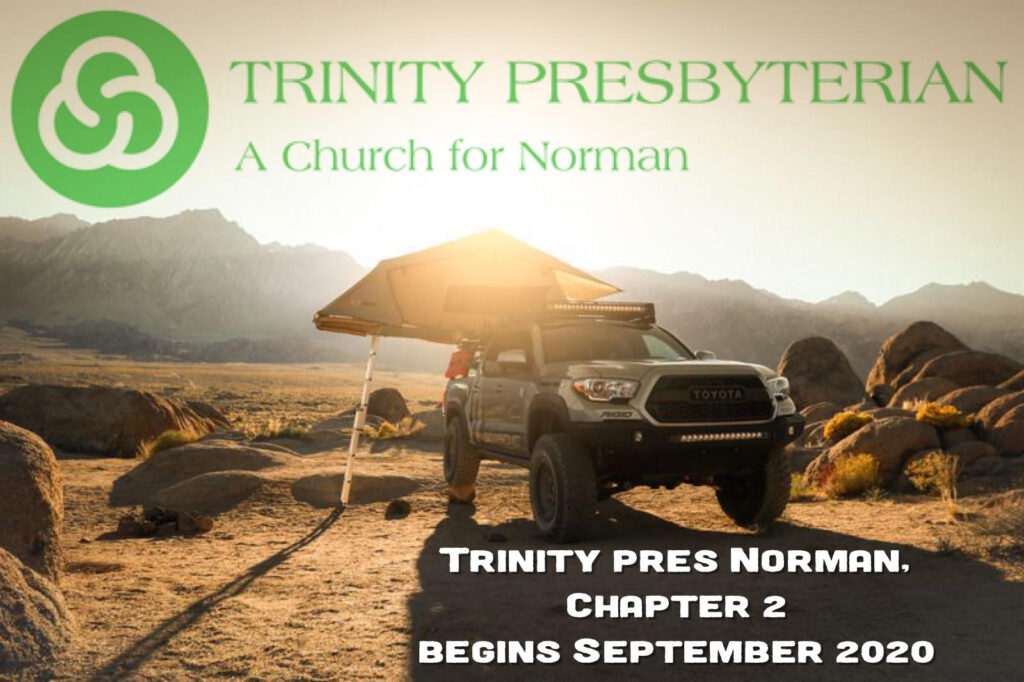 Dear Trinity Pres Family & Friends,
I am grateful for all our friends who have contributed to the planting of Trinity Presbyterian Church in the last few years. It is an honor to serve the Lord in this endeavor with and for you. With Covid-19, some of our plans for this year have been significantly set back, but God has been faithful, and we are surviving. This is challenging enough for us all, but in recent days, I have found another occasion to share and ask for your help.  The video of this letter is here.  
For the last several years, First Baptist Church of Norman has graciously allowed us to use one of their auxiliary buildings on Main Street for worship on Sundays while we are church planting. FBC has been actively attempting to sell the building. This week, I received some news. It was surprising news. The news I received was that the building has sold. This is good news for First Baptist Church. We rejoice that they found a buyer for the building. We deeply appreciate their graciousness and partnership with us in church planting since we began meeting for worship weekly in the Spring of 2017.
We will miss that building as it has felt like our home on Sundays. We have seen God at work in it and will cherish many amazing memories—I consider all of the baptisms, the young couples falling in love and holding hands for the first time together in the church, the excitement of new visitors to our church plant and the way we welcomed them, the meals we shared after services, and the times we have felt the deep love of Jesus for us as the gospel has been proclaimed. I will remember and never forget all of the folks who set up and took down and the musicians who have played in our services and led us using their voices and instruments such as violins, pianos, a drum, bass, and even a harmonica, once. We have even pulled off socially distanced worship successfully without spreading COVID-19 since we began meeting back there in person since May. We have been blessed. I think I speak for our entire church community over the last several years in that we are very grateful for such a wonderful place where we could worship as God has called some of his saints to participate in our quest to plant an Associate Reformed Presbyterian Church in Norman, OK.
Sadly, this Sunday will be our last Sunday in the Common Ground building on Main Street. The new owners will not close until August 28th but they desire to begin renovations ASAP. Therefore, following church on Sunday, we will need to move all our things over to our new temporary home on Sundays. Through the month of August, we'll be meeting on the second floor of the Family Life Center of First Baptist Church. This building is located at the corner of Comanche and Webster. There is a parking lot right in front of the building. When you enter, you can take either the stairs or the elevator to the second-floor meeting space. Our space is on the East side of the building.
This means that God is closing one door, but we expect that He will open another door. We are called to believe this because the scripture instructs us that God provides everything his people need. Our doctrine of God's providence matters dearly as we believe the scripture teaches that God not only calls his people but that He governs all his creatures and all their actions. God is moving Trinity Presbyterian toward what I am considering, "Trinity Presbyterian Church of Norman, Chapter Two." I like to consider the wonderful times in Common Ground on Main Street as our chapter one. But God will reveal his mysterious next chapter as he reveals his secret things to us. We will continue to do all the revealed things (Deuteronomy 29:29) He has given us to do as a church plant (preaching his word, reading the word, praying his word to Him, singing his words, and seeing his word in the sacraments, as we live together in fellowship). In this, we truly are "a church for Norman," as we say. We are not targeting certain demographics or trying to become all things to all people, but to faithfully serve and love according to God's design those whom God brings our way through this church. I am thankful for the church that we are becoming. Chapter two will hopefully include not only a new building but also ordained elders and deacons for our church and internal financial stability. We will need to continue to grow through the addition of more individuals and families with a vision for this church who want to know God and his word and share his word with Norman.
We do not know where we will be meeting for Worship on September 6, 2020, but God knows. We will entertain every option. The map is wide open. I believe that God will furnish us with the next space as we prepare for where our more permanent space will be. I believe that God will either compel someone to hand our church a building or that we will be enabled to break ground on a new structure in Norman.
I have dreamed of how many families and students will one day gather in a church building that we do not even know exists and walk by a framed photo on the wall with people whom they do not know (us) holding shovels as we broke ground on the building in which they are worshipping God. Friends, we are one day closer to that day. May that future building stand for many, many years, and Lord willing stand for the gathering and perfecting of the saints to the glory of the Father, the Son, and the Holy Spirit until the Lord returns. As Psalm 97:1 says, "The Lord reigns, let the earth be glad!" And as we often sing the song, "Come Thou Fount," we cry out, "Here I raise my Ebenezer, hither by thy help I've come…" Let His grace "bind our heart like a fetter" to Him in Trinity Pres Chp Two.
Some things to pray for:
We will continue to be faithful to God's word.
We will have the wisdom to discern the best solution for where to meet in September.
We will have more and more people to feel safe to return to worship with us in person after this year of uncertainty and sickness.
We will develop elders and deacons and financial stability so we can more faithfully serve God's people.
We will receive with gratitude and humility God's provisions for us as a church when He provides.