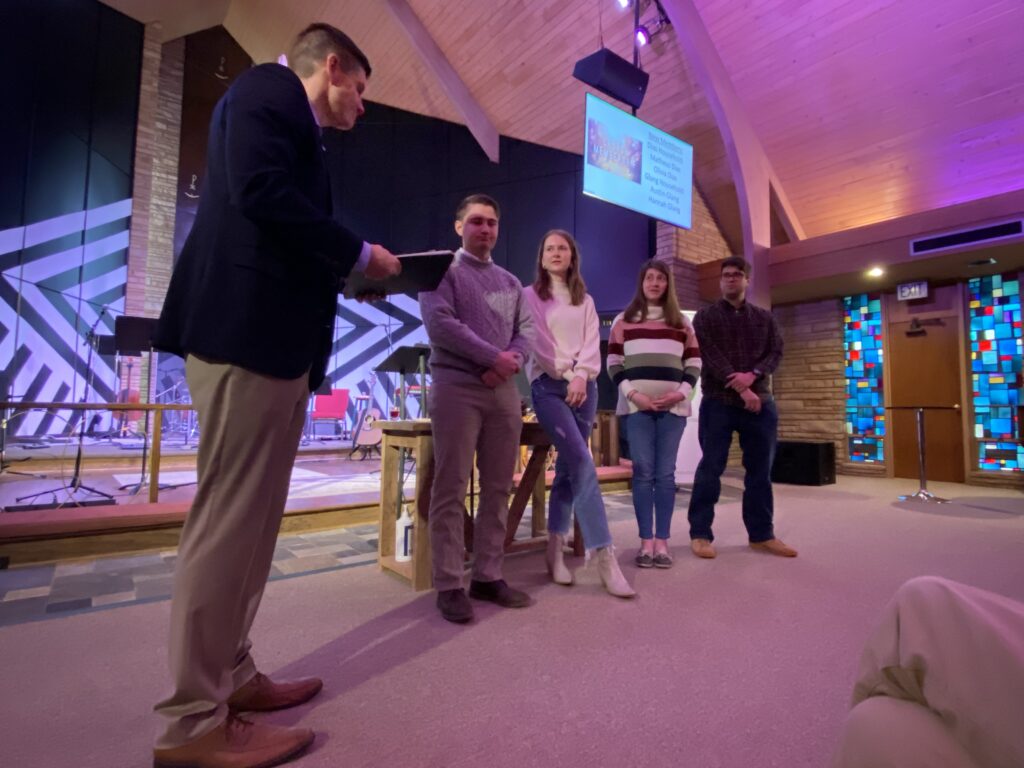 Our church has been blessed to receive new members this year. In the photo above you can see several of our new members answering the membership vows. Every member must affirm that he or she agrees to the church's membership vows which are below:
Do you confess that you are a sinner in the sight of God; that you deserve His punishment; that you are unable to save yourself; and that you are without hope of salvation except for God's love and mercy?
Do you believe in the Lord Jesus Christ as the Son of God and the Savior of sinners; and do you receive and trust in Him alone for your salvation?
Do you accept the Bible, comprised of the Old and New Testaments, as the written Word of God; that it is the only perfect rule of faith and how to live?
Do you promise to trust in the guidance and strength of the Holy Spirit so that you can live all of life as a Christian, following the example set by Jesus Christ?
Do you promise to exercise faithful stewardship of God's resources entrusted to you for the furtherance of God's Kingdom and purposes?
Do you accept that the doctrines and principles of the Standards of the Associate Reformed Presbyterian Church are founded upon the Scriptures?
In loving obedience, do you submit yourself to the government and discipline of this church, promising to seek the peace, purity, and prosperity of this congregation as long as you are a member of it?
One of our church's values is that we are biblical. Is church membership relevant and useful or practical for believers today? It doesn't matter. The question bibilical Christians must ask is, "Is church membership and membership vows Biblical?" See the Westminster Confession of Faith's chapter on this matter at this link. You can read the whole confession here. To dowload a great app on your phone for studying the Westminster Standards (our church's written confession of faith) go here.
All members must be examined by the session of elders in the church as to their personal testimony of faith in Christ. All young children of believers become members of the church on the basis of being part of a believing household. They are considered non-communicant members until they make a public profession of faith and are admitted by the session of elders to partake in eating and drinking the Lord's Supper. you can read about membership in chapter 4 of the ARP Form of Government here.
As you can see above, the membership questions 1 and 2 concern the member's understanding of the gospel. Question 3 concerns the member's understanding and assent to the sole authority of the Bible for all of life and doctrine. Question 4 concerns the member's commitment to be engaged in a life of discipleship which relies upon his or her fellowship with the Holy Spirit. Question 5 articulates every member's commitment to faithfully steward his or her time, talents, and treasures to further God's kingdom. To fill out our ministry interest survey and better understnad how you can use your gifts in our church, go here. Question 6 deals with our affirmation that the confessional standards mentioned above are biblical. While ministers and elders in our denomination must subscribe to the confessional standards. Members are only required to state that they believe the standards are founded upon the Bible (not that they subscribe to every line. In light of all of these things, our membership vows conclude with Question 7 which deals with our commitment to church discipline and our obligation to promote peace, unity, and prosperity in the church.
We have periodical church membership explorer classes where our Pastor teaches through basic history, distinctives, and doctrines of our church. If you'd like to explore church membership at Trinity Presbyterian Church, speak with Justin or one of our elders.